The GLOA is nothing without members dedicated to the association and to growing lacrosse in our state. Below you will find biographies and contact information of our Current Board Members, and Assignors.
Board
President (2024-2026)
Mike Collver 

I have been involved in men's lacrosse since I learned to play on the UGA team back in 1975. I was one of the original members of the first team at Georgia and played for four years there and then played with the Atlanta Lacrosse Club from 78-91 or so.
I officiated my first college club game in 1979 and been hooked on officiating since. I also was the college club assigner for the southeast before Eric showed up. In 1986 I started officiating at the NCAA level and was involved in the formation of the SELC with Eric Rudolph. In the 90s I helped to start NILOA and served as its first president. I am also a recipient of the Frenchy Julien award given annually by NILOA.
In 2004 I joined GLOA as a high school official as well as I coached Marist in the club league. In 2005 I became Marist first community coach at the high school level. From 2006 through 2011 I coached Tucker club lacrosse team which was the genesis for Druid Hills, Chamblee, Brookwood, Parkview and Dunwoody lacrosse programs. I have spent my entire adult life in lacrosse, most of it in the officiating world. There really is nothing I love more than officiating lacrosse. I am a recipient of the Ron Mallonee award as well as a LAREDO instructor for US Lacrosse. It is my desire to bring my officiating talents, my business talents, and my love of teaching officiating to the GLOA organization.
---
Secretary (2021-2024)
Landon Hunsucker
Landon has worked youth, club, and high school lacrosse games since 2002. He has also officiated college and men's club lacrosse since 2005. A native of the great state of Virginia. He is married and has a son and three daughters. He currently resides in Marietta, GA. Landon also officiates high school football with the Georgia Football Official's Association.
---
Treasurer (2022-2025)
Peter Fleury

Peter has officiated youth and high school lacrosse games since 1998 and has also officiated college lacrosse since 2000.
Peter was the GLOA secretary from 2003 to 2007 and the treasurer from 2007 to the present.
---
Member At Large, Communications/Head Trainer (2022-2025)
Greg Hite 
Greg played lacrosse at the Hackley School, Bates College, internationally at Oxford University and post-collegiate club ball at the University of Virginia. He has officiated at the youth, high school, USILA, NCAA, and post-collegiate levels, He is as a US Lacrosse certified trainer and LAREDO  Clinician and is the USL District Coordinator for Georgia. In 2011, he and Gordon Corsetti created Atlanta Lacrosse Official to assist young officials to break into the game of Lacrosse and to provide experienced officials resources designed to complement rather than compete with those produced by US Lacrosse and the National Federation High Schools (NFHS). He and his wife live in Decatur.
---
Member At Large, Recruiting (2021-2024)
Clyde Allen, Jr. 
Clyde Allen started his officiating career with GLOA in 2012 and credits GLOA with providing adequate training, positive feedback, and challenging assignment opportunities, which allowed him to develop into a better lacrosse official. He became a NILOA official in 2016. My goal is to now yield GLOA the same level of commitment the organization has given to me.
---
Member At Large (2021-2024)
Herbert Phillips 
Herbert joined the GLOA in 2010 and in that time has worked numerous games, completed LAREDO 2 and 3 training, and worked three GHSA State Finals. He is also a collegiate official. In addition to lacrosse, he has 15 years of experience as a GHSA football official. Herbert says, "My vision for the organization is broken into two parts, recruiting and training. With the enormous growth in our sport, recruiting and retaining officials is imperative. After the recruitment, we must improve the training of these and existing officials to expand our capability to work all levels of games (especially at the 3-man level)."
---
Member At Large, Finance(2021-2024)
Trey Towery 
A former player, Trey has watched the game grow and develop since 1993. He joined the association in the Spring of 2006 and has officiated four GHSA State Championships.  A collegiate official since 2008 and have been awarded two NCAA Division 2 semi-finals. In 2016, he joined both professional leagues as an official: the NLL and MLL.
---
Member At Large, Recruiting (2022-2025)
Jason DeMarchi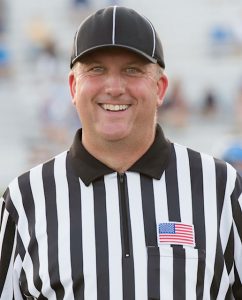 Jason came to Georgia from Central New York, where he played lacrosse for 4 years at Oswego State, in 1995. He has helped promote the game as player and a coach in Atlanta and joined GLOA in 2012.  Since then he has attended U.S. Lacrosse LAREDO 2 and 3 training, became a member of the National Intercollegiate Lacrosse Officials Association in 2016 and was a part of the GHSA State Championship crew in 2018. "I owe a debt of gratitude to those mentors and role models that have encouraged and supported my growth within the game of lacrosse", he adds.
Jason would like to promote best practices, in terms of game preparation, and promote the highest standards of respect for the game and rules compliance. "Being a part of the lacrosse community has given me a great deal and it is important that we take care of it".
---
Member At Large, Head Assignor (2022-2025)
Patrick Joyce
Patrick grew up in western New York and started playing lacrosse in High School. He played three years of varsity lacrosse at Canandaigua Academy and also three years at Nazareth College.
Patrick has lived in Atlanta for over sixteen years and has been officiating lacrosse since 2005. Patrick was inducted into the Georgia Lacrosse Foundation Hall of Fame in 2019.
He is also the GLOA Head Assigner.
---
Member At Large (2024-2026)

Brian Higgins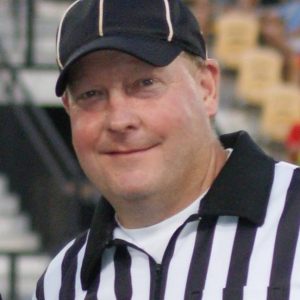 Brian's background is in hockey, where he officiated for almost 30 years. GLOA recruiting efforts at a hockey meeting peaked his interest and he tried it and fell in love with it. He has been a GLOA member since 2012. In 2012 he was the rookie of the year- 2016 Iron Man winner- 2017 Road Warrior winner. Brian does all youth levels and GHSA, plus travels the country doing youth to college showcases at the tournament level. One highlight was being invited to officiate the World Series of youth lacrosse in Maryland. He was thrilled to be a CBO for the 2018 state championship and on the field for the 2021 championship.
He love talking rules and situations, which is what makes this game so great- all refs strive to get better. He looks forward to serving the best officials association in the country and help grow the game. He is married to Shannon and they split time between Flowery Branch and South Carolina.
---
Member At Large (2024-2026)

Julius Milton
Julius  has worked youth, club, and high school lacrosse games since 2008.. He is a native of Atlanta, GA (actual Atlanta, not the suburbs). He is married and has all adult children, including two son and one daughter. His professional background is in the Revenue Cycle arena of Healthcare.
He currently resides in Lawrenceville, GA. Julius has been officiating sports since 2002. He also officiates high school football, flag football and basketball under other GHSA officials' associations. He is proud to train new officials and loves to talk about sports, including his favorite hobby golf.
---
Board Member Emeritus
Eric Rudolph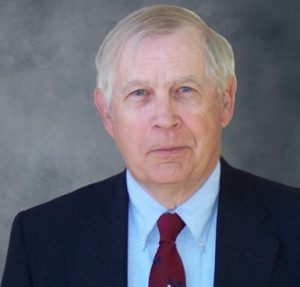 Eric has officiated lacrosse, at all levels from Youth to International, for over 40 years. He is and has been active in lacrosse in many capacities and has help form and supported a number of lacrosse organizations. He is currently the Secretary of the Georgia Lacrosse Foundation, Chief Official and Director of the SouthEastern Lacrosse Conference, a Director of Wheelchair Lacrosse USA, a Coordinator of Officials and assigner for a number of College Lacrosse Conferences in the Southeast. He has served as a Director for US Lacrosse, the GHSA, the District 5 Collegiate Assigner for the United State Intercollegiate Lacrosse Association, he previously served as chair of the US Lacrosse Rules Committee and was a member of both the National Federation of High School (NFHS) and the Federation of International Lacrosse. (FIL) rules committees. He has been inducted into the Georgia Lacrosse Hall of Fame and South Florida Lacrosse Hall of Fame.
---
 Assignors
Stuart got started as a lacrosse official through coaching.  In 2005, he was "volunteered" to be the assistant coach for the East Coweta HS club team.  After coaching for a year he attended an officials training class for the sole purpose of getting to know the game better.  After he finished the training class, the instructor, Bob Jackson, asked, "So, when are you going to start ref'ing?"  Stuart started officiating with GLOA in the fall of 2006, and has been an assignor since 2009.  Stuart has attended a U.S. Lacrosse LAREDO 3, and is a college official with NILOA.  He has officiated multiple playoff games and has had the privilege of officiating several Georgia High School state finals.  In addition to officiating and assigning, Stuart is one of the U.S. Lacrosse certified trainers/observers in Georgia.
---
Tony Rouse  

Tony has over 15 years of experience officiating lacrosse, youth and high school since 2006 and college since 2010. He is a recipient of GLOA's annual Ron Mallonee award and was the GACA lacrosse official of the year in 2011. In addition to officiating, Tony has served the GLOA on training committees and as an assignor since 2012.