GLOA has a Hudl account which allows the Board, Observers, Trainers, and members access to game and share film.
Watching yourself on film is THE BEST WAY to improve your performance.
Former NFL referee Ed Hochuli said, "If you believe there is no room for improvement, get out of officiating because the next step is an obvious decline. That is embarrassing to you and your fellow officials. Every year, I am less content with my own abilities. I see so many great officials and I realize how many things I have to work on."
And film does not lie.  If you want, ask a trainer, mentor, observer or board member to watch the film and give you pointers.  Even better, watch it together!
Accessing Hudl
Go to https://www.hudl.com/
Your login is the email you use with arbiter and you will create a password for your account once you log in for the first time. If you have any issues or questions, email [email protected].
If you are new, please look for an email from [email protected] subject line: "Join the Team."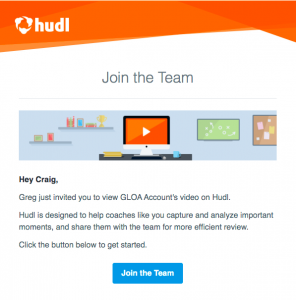 Click the blue button and you will be able to log in; you will be asked to create a password for your account.
Request Film
You may ask your Referee or any member of the Video Committee to request film from a coach. Most varsity and many JV games are filmed by the home team and 103 or 119 programs use Hudl. Our team name is Georgia Lacrosse Officials Association.
More information on how to use Hudl can be found on their support page.
Video Review Committee
Greg Hite
Gordon Corsetti
Dale Hall
Bill Powell
Landon Hunsucker
Jeremy Redmon
Mike Montgomery
Patrick Joyce
Tony Rouse
Stuart Smith
Clyde Allen
Herbert Philips
Mike Collver