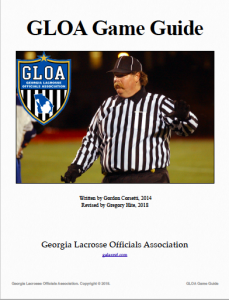 The 2018 GLOA Game Guide has been revised with the updated rules and mechanics. In addition sections such as stick checks, line up and coin toss, dead ball officiating, Arbiter, GHSA and Three-Man mechanics have been added.
The Guide is available in both iBooks and PDF formats.
The 2018 Pre-Game Sheets have also been added; these include the ALO youth official, Rookie Two-Man, Two-Man, and Three-Man pre-games. We have also created a GLOA Table Guide to hand out to Table Personnel.
Visit the to view and download GLOA Resources Page.