The GHSA has moved its testing platform onto the NFHS Centers for Officials Services powered by DragonFly Athletics.  This system will provide all officials to use one login, their DragonFly account login, to take the NFHS exam.
The NFHS Boys Lacrosse Rules Exams will open on January 24, 2022 and run through February 7, 2022. DO NOT WAIT to take this exam!
Officials must complete GHSA registration and pay all fees to gain access to NFHS exam portal.
All users will need to sign into their Dragonfly account, go to their GHSA requirements and click on the exam requirement (see below).  This will take you directly to the NFHS exam system.
Officials who have not set up an account with Dragonfly must do so in order to take the NFHS Exam. This simple setup process takes about two minutes and provides the NFHS and GHSA all the necessary information for the collection of results. 
Please note that you must use the email address you use for Dragonfly in order to access the NFHS exam site.  If you already have an NFHS account, that too must use the same email address and password.
If you do not see the test on your dragonfly account, be sure to complete your GHSA registration and pay all fees.
If you have questions, please contact Landon Hunsucker [email protected] or Clyde Allen [email protected] for assistance.
To Access the 2022 Lacrosse Exam
Login to Dragonfly.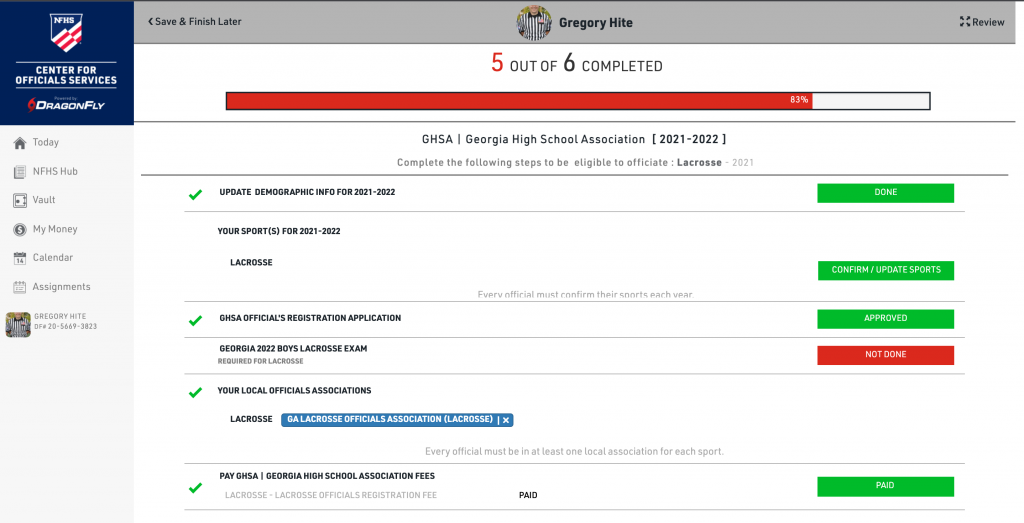 Click on the the red Not Done button on the right and follow the instructions.