Based on the NFHS Rules and GHSA policy (see below), uniforms worn by game officials MUST be identical.
The board would hope that Referees work with their crew to make a diplomatic decision as to what to wear. Making sure everyone is comfortable is essential in getting the best effort and focus from the crew during a contest. We ask that the Referee be flexible; with that being said, the Referee has the final say.
Again, the goal is for all to be dressed identically i.e. Long black undershirts are acceptable under short sleeves ONLY if all officials wear them. Jackets will be worn ONLY if ALL officials wear them.
It is imperative the crew communicate prior to the game what the expectations are for the contest and make sure to bring ALL of your equipment should game conditions change. If you do not have a required piece of equipment, be sure to let the rest of your crew know. Many of the more experienced officials have extra gear that you can borrow.
GHSA Uniform
Sublimated 2″ striped shirt with GHSA logo over pocket and US flag on sleeve (all officials should have BOTH a short and long sleeved GHSA shirt)
Solid black long pants (No white stripe i.e. football pants)
Solid black shorts (No cargo shorts)
Black Belt
Solid Black Shoes with black laces
Solid black ankle socks with shorts (socks worn with pants may be longer but must be all black)
Solid black jacket
Black hat with white piping
All black mask or gaiter (if worn on field)
NFHS Rule 2-5 Art 3 states that "The uniform should fit properly and be clean and neat. All officials working the game are to be dressed the same."
Officials Guidelines on the GHSA website UNIFORM STANDARDS echos the NFHS rules: "Officials are required to adhere to the uniform policy of the respective sport/contest in which they are involved. Officials should always dress in an appropriate manner to and from each game assignment. Officials are expected to adhere to acceptable grooming standards and are not allowed to use tobacco of any fashion upon arrival at the game site, during the game/contest, and until they are away from the venue. Officials within a crew are required to wear identical uniforms items. Exception: Baseball/softball plate umpires."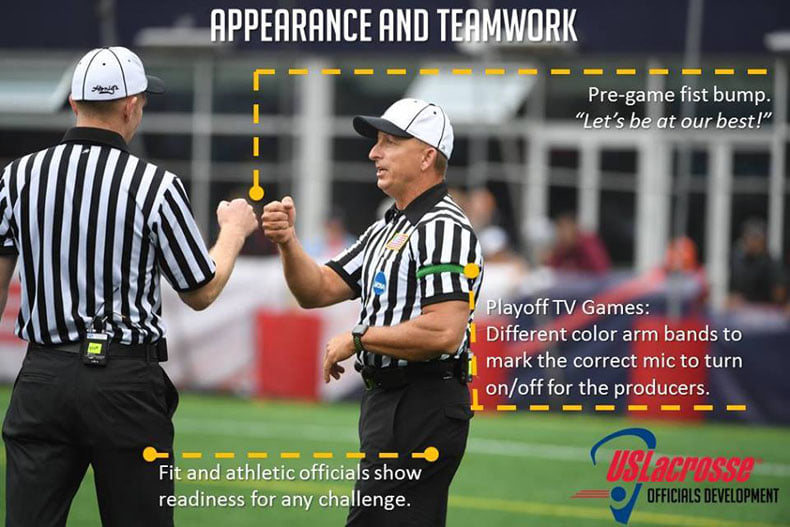 More information can be found on the Uniform and Equipment page, especially regarding youth contests as well and summer and fall options.