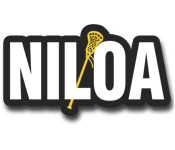 Congratulations are in order for GLOA officials Zach Lamantia and Josh McCrain  who were both selected to join the National Intercollegiate Lacrosse Officials Association (NILOA) for the upcoming 2020 college lacrosse season.
NILOA held two Training and Observation events this fall.  The first was held at Berry College in Rome, GA on October 19, 2019. GLOA officials Greg Hite, Herbert Phillips and Eric Sanders were selected to participate.  The second event was held at the University of Tampa on October 27, 2019. GLOA Officials Ryan Rowe (Marietta, GA) and Dale Hall were selected to participate.
Requirement and Process for Joining NILOA
For any GLOA officials who are considering applying to NILOA. The requirements for joining NILOA are:
At least three years high school varsity experience
HS play-off experience (preferably semi-finals/finals) Experience with three-man mechanics
Successful experience at the club level
Club or Post-Collegiate Club experience
Candidates must complete the NILOA application, submit two letters of Recommendation from current NILOA Members and their assignor (Patrick Joyce).  If your application is selected and you are invited to attend a tryout, candidates must pay a tryout fee of $100.
Following a successful on-field evaluation, candidates must:
Score better than 80% on the NCAA rules test

Be an active U.S. Lacrosse Membership as an official
Pay provisional member dues ($175)
If you have questions about how to prepare for or navigate the process, please feel free to contact any of the individuals listed below.
Current GLOA Officials who are NILOA Members 
Clyde Allen (Board Member)
Mike Collver
Chris Cook
Gordon Corsetti
Jason DiMarchi (Board Member)
Luis Diaz
James Eubanks (Board Member)
Peter Fleury (Board Member, Treasurer)
Jeff Greene
Dale Hall (Assistant Governor NILOA District 5)
Andy Halperin
Greg Hite (Board Member, Lead Trainer)
Landon Hunsucker (Board Secretary)
Patrick Joyce (Board Member, Head Assignor)
Chris Klinker
Nate Kreuter
Zach Lamantia
Chris LaPierre
Josh McCrain
Tom McGee
Mike Montgomery
Clinton Myrick
Herbert Phillips (Board Member)
Bill Powell (Board President)
Jeremy Redmon (Board Member, State Rules Interpreter)
Tony Rouse (Assignor)
Eric Sanders
Stuart Smith (Assignor)
Greg Thompson
Trey Towery (Board Member)
Kurt Trampell
Rob Tuttle