In light of the global health concerns relative to COVID-19, the Georgia Lacrosse Officials Association board continues to monitor the situation with guidance from numerous organizations and stakeholders including US Lacrosse, Georgia High School Association (GHSA), the National Federation of High School, the Center for Disease Control and Prevention (CDC), the Georgia Department of Public Health (DPH), and the Georgia Governor's Office.
At this time, the board has decided not to assign games.  We will continue to provide our members regular updates as new information becomes available.  These are extremely difficult times, where everyone involved needs to support each other in any way they can.
We do recognize that all GLOA members are independent contractors.  Should a member decide to work a game that was not assigned by GLOA, they will NOT be covered by GLOA or GHSA insurance.  Those who have supplemental insurance through US Lacrosse or NASO should check their policies, as it is our understanding that neither policy covers infectious diseases. 
In addition, no official working a non-GHSA game that is not assigned by GLOA should be wearing a uniform with either the GLOA or GHSA patch. 
Office of the Governor
Effective June 16, gatherings of more than fifty people are banned unless there is at least six feet between each person. This rule does not apply to critical infrastructure entities, incidental or transitory groupings, or cohabitating individuals.
You may read the full order here.
Georgia High School Association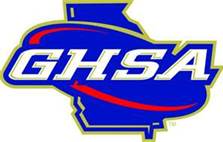 The Georgia High School Association (GHSA) is allowing schools to resume activities limited to workouts and conditioning beginning June 8. Workout groups will consist of a maximum of 25 athletes and coaches, per sport, at a time. The groups will remain consistent to limit possible exposure.The school districts will be required to follow the minimum requirements set by the GHSA that include extensive cleaning and limited workout groups, but they are allowed to increase the restrictions. Schools will have to screen students and coaches arriving at the facilities by asking them about their health – including whether they have had a cough, fever, or possibly been exposed to COVID-19.  There must be 15 minutes between groups for disinfecting the facility.
You may read the latest from the GHSA here. 
US Lacrosse Return to Play
US Lacrosse published its Return To Play Guidelines at the end of May which includes a five-stage process for a full resumption of activities.  USL plans to issue more guidelines soon.  
USL recently hosted a webinar on the topic. Dr. Eugene Hong is the co-chairman of the US Lacrosse Safe Return to Play advisory group.  Dr. Hong is the chief physician executive at Medical University of South Carolina, NCAA COVID-19 advisory panel committee member, and chief medical advisor to Clemson University's athletic department as well as the team physician for men's and women's U19 national teams and chairman of US Lacrosse's Sports Science and Safety Committee. He noted:
We are not clear what the risk of transmission in sport is at this point and time. We may know better over the summer, fall and winter. But we are struggling with that question I think at many levels of sport… We will know more hopefully six months from now than we do at this point and time, but we are all concerned as medical professionals involved in sports with that uncertainty about the risk of transmission in sport.
You may watch the entire US Lacrosse Return to Play Webinar here:
National Federation of High Schools
On May 15, 2020, the NFHS issued a report entitled Guidance for Opening Up High School Athletics and Activities. As some state governments start to relax restrictions, state associations are looking ahead to when high school athletics and activities can resume. Here is the latest information as the NFHS has it.