A great way to improve your craft is to watch more experienced officials work games. Watch how the officials position themselves in settled situations, conduct faceoffs and move in transition.  Pay attention to how they communicate. How do they signal, use their voice, or use non-verbal communication (i.e. body language). Observe how they remain focused during a dead-ball situation like a stick check or a time out, manage the clock, interact with the table personnel and administer penalties.
You have a number of options to watch games, sticking around after your game is over, attaching yourself to a game, or watching video.  Try and take advantage of as many as you can throughout the year. Notice how they deal with specific situations that cause you trouble in a game.
Stick Around
If you have a middle school game, stay and watch the JV and Varsity contest.  Introduce yourself and ask if you can listen in on their pre and post-game discussions.
Attaching Yourself to a Game
Attaching yourself does NOT mean that you would like to work the game.  Arbiter will block that day on your calendar and the assignor will know not to assign you that day. However, the crew will see that you are attached and will be able to include you on all communications.
Sign into Arbiter and click on the Schedule tab, then select Attach (see above).
Select what league you would like to attend.  GLOA allows for GHSA, Middle School, Non-Spring and Tournaments. GHSA and Middle School contests both offer great opportunities to see how other more experienced officials work a game.  Do not choose non-spring games or tournaments. In these types of games, the rules are often modified and the games are one on top of the other, so often times there is no pre or post-game meeting (see below).
Then select a level, either Varsity of Junior Varsity. If you select, JV, you may be able to get two games in the same night as the JV teams often play prior to the Varsity, and more often than not the same Referee works both contests.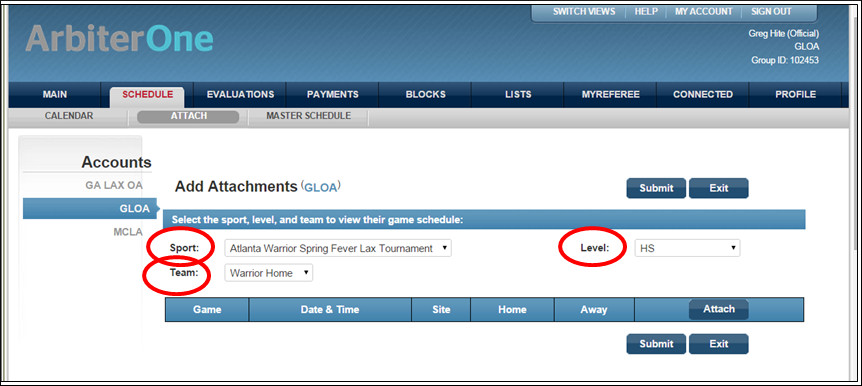 Once a level is selected, the Team drop down menu will list all the teams that match that criteria.  Choose a team that is close to where you live or work and click the box in the attach column (see below).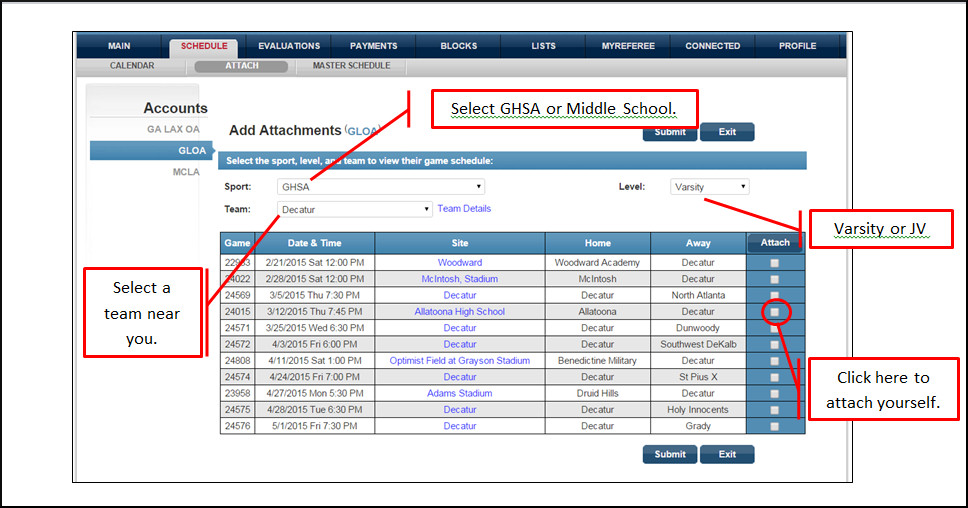 Unfortunately there is no way to search by the officials working a contest.  If you want to observe a particular official, email them and ask them what their schedule looks like for the week.
Watch Video
If you can't stick around or attach yourself, watch games on TV or YouTube.  This helps you not only by watching skilled referees work, it also helps you to learn more about how the game is played.  ESPNU had a full slate of NCAA games.  Here is the complete TV scheduled for 2015.  You can also check out YouTube and Lax.tv.
Play on!
Greg Hite
GLOA Lead Trainer