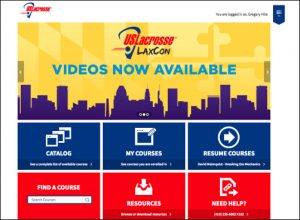 All GLOA youth lacrosse officials (18 and under, still in high school) as well as all adult officials who have not taken the 2019 GHSA test are required to complete the annual NFHS boys lacrosse rules exam with US Lacrosse
BE SURE TO COMPLETE THESE TESTS BEFORE THIS WEEKEND!
US Lacrosse Rules Exam
In order to be certified as an official annually with US Lacrosse, all officials must pass the NFHS Boys Rules Exam with an 85%.
Everyone gets two chances to get each question correct.
If you fail the exam, you get endless options to retake the exam. Take it until you pass.
All officials are reminded it is best to take the exam on paper, and then log into the exam to enter their answers. You can access PDF versions of the exam once you access the exam you need to take using the directions below.
The tests are open book.
Accessing the US Lacrosse Rules Exams
Login at

www.learning.uslacrosse.org

Click on "Catalog"
Click on "Annual Rules Exams"
Click on "2019 NFHS Boys Rules Exam" and the 2019 US Lacrosse Boys Youth Exam"
Click on "Enroll"
Click on "Launch"
If you are being charged for any of these exams, your annual US Lacrosse membership has likely expired and you need to call member services at (410) 235-6882.
Resources
You can find a breakdown of the 2019 rules and mechanics changes, rules videos etc… on this post.
You can find the 2019 US Lacrosse Youth Rules here.