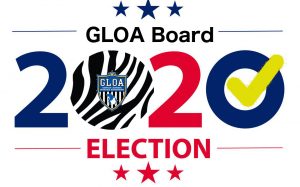 There are three (3) seats up for election and current members, James Eubanks and Jeremy Redmon have chosen to run for re-election.
GLOA President Bill Powell has decided to step down.  We would very much like to thank him for his many of years of service to the Association and especially for his time on the board. 
In addition, Mike Collver, Gordon Corsetti, Luis Diaz, Brian Higgins and Topher Lawson have decided to run.
Ballots 
Ballots have been sent out in the newsletter. Please check your email.
Voting end on May 29. The three (3) candidates with the largest vote totals will be elected to serve on the Board. Per the by-laws, all members seeking a spot on the board run for at-large seats, the board then elects their officers.
We highly encourage every adult member of the Association to vote.
If you have any issues with the ballot, contact a member of the election Committee: Landon Hunsucker, Greg Hite or A. Nick Brown ASAP.
Candidates
You can read each candidate's statements below.  These are listed in alphabetical order.  If you have questions for the candidates please feel free to reach out to them to discuss their positions (contact info is available via Arbiter). 
Mike Collver
I am expressing my desire to join the Board of GLOA.
I have been involved in men's lacrosse since I learned to play on the UGA team back in 1975.  I was one of the original members of the first team at Georgia and played for four years there and then played with the Atlanta Lacrosse Club from 78-91 or so.  
I officiated my first college club game in 1979 and been hooked on officiating since. I also was the college club assigner for the southeast before Eric showed up.
In 1986 I started officiating at the NCAA level and was involved in the formation of the SELC with Eric Rudolph.  In the 90s I helped to start NILOA and served as its first president.  I am also a recipient of the Frenchy Julien award given annually by NILOA.
In 2004 I joined GLOA as a high school official as well as I coached Marist in the club league.  In 2005 I became Marist first community coach at the high school level.  From 2006 through 2011 I coached Tucker club lacrosse team which was the genesis for Druid Hills, Chamblee, Brookwood, Parkview and Dunwoody lacrosse programs.
I have spent my entire adult life in lacrosse, most of it in the officiating world.  There really is nothing I love more than officiating lacrosse.
I am a recipient of the Ron Mallonee award as well as a LAREDO instructor for US Lacrosse.
It is my desire to bring my officiating talents, my business talents, and my love of teaching officiating to the GLOA organization.
Love working with all of you and appreciate your consideration.
Gordon Corsetti
GLOA official since 2008.
Created several dozen training videos from 2010-2014.
Playoff official since 2010.
Most Improved Official in 2010.
Volunteered on the party committee for two years.
Trainer from 2011-2014.
Was part of the group that established the GLOA observation program.
Wrote the GLOA Game Guide.
6A Championship official in 2014.
Manager of Men's Officials Development for US Lacrosse from 2014-2019.
Why I'm running:
The GLOA has been a significant part of my life for over ten years. I've made lifelong friendships and have been fortunate to be a part of many great moments on and off the field with the members of this association. In my role at US Lacrosse, I got to interact with nearly every association in the country, and I can confidently say that the GLOA is one of the very best in the US. I would like to bring my skills in eLearning development and training as well as my organizational skills to the board to maintain the GLOA's already sterling reputation, and to help grow our association to meet the needs of lacrosse as it continues to expand across the state.
Luis B. Diaz
1. Official in the State of New York for 22 years:
A. Five State Championships games and numerous playoff games.
B. Worked The New York State Empire Games. Championship game and numerous playoff games
C. President of Suffolk County Lacrosse Official Association 1990-1991.
D. Official of the Year 1989.
2. Official in the State of Georgia for 28 years;
A. Three State Championship games and numerous playoff games.
B. Georgia Coaches Association Lacrosse Official of the Year 2008.
C. Recommended GLOA members to the College Level.
3.Official in NCAA Men's College Lacrosse for 45 years.
A. Worked Div.I, II and II.
B. Worked Championship games in the Deep South, Peachbelt and MCLA Conferences
C. Numerous NCAA playoff Games.
4.World Games in 1994 at Manchester England Official.
5. Worked in over 40 States in Men's Lacrosse Tournaments.
6. Worked the Vail Tournament for 21 years.
If you feel I am qualified, your vote would be greatly appreciated.
Referee
Luis B. Diaz
James Eubanks

My Fellow GLOA Officials,
I would greatly appreciate your support as I seek reelection to the GLOA Board
(my photo is attached).
I am blessed to have had the opportunity to serve and represent you as a GLOA
board member as, Vice President, Ethics committee director and Governance
committee director for the past three (3) years. In these roles, I have sought
balance and transparency in how GLOA represents you and how we handle issues.
I've facilitated updates and modifications to our old by-laws to bring them up
to speed given our years of growth as an organization.
I am most proud and honored by the opportunity that some of you have given me by the many calls and conversations that I have had to hear your concerns, confusions, "what is the board doing?" questions, and whatever you wanted to talk about questions…Being open, accessible and "getting things done" for those I serve has and is for me my
greatest joy and privilege.
Now, I am asking for your support, so that I may continue to serve you and complete this important work.
Since 2008, I have been a GLOA member and have officiated every level of the sport, including youth, high school, MCLA, NCAA and post-collegiate. In addition, I have completed US Lacrosse's LAREDO training program(s) as well.
But, my service to you my fellow officials, is not about pedigree, it's about "Service!"
If reelected, I would continue supporting you, our members in these ways, remaining responsive to your questions and/or concerns.
I look forward to officiating with each and every one of you and I'm grateful for your support.Thank you,
James
Honoring the Game and the Sport!
Brian Higgins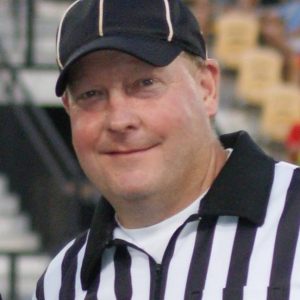 Brian Higgins hopes to join the GLOA board and "Make Lacrosse Great Again". I am a Gwinnett resident, who assigns for the Gwinnett Lacrosse League, and I am heavily involved at the HS, youth, and tournament levels, which is the GLOA's primary responsibility. I have won rookie of the year, Iron man, and the road warrior awards during my 9 years with GLOA.
I love our association and really enjoy officiating at all levels- I enjoy afterwards as well!!!! My vision is to continue the great work that has been achieved in the past, while moving forward to improve coach, parent, and player behavior with trend/tracking programs. I have many other ideas that cannot be included in this brief biography.
I am very easy to approach and talk with, so I can be a voice for EVERYONE in the GLOA who has ideas or suggestions. Give The Higg a shot and you will not regret it. Thanks in advance for your vote
Ross Hutto
I would like to thank the present and past Board Members for the hard work that goes into each and every season. Your efforts and the 1000's of hours spent collectively from officials across Georgia make us what we are today. My name is Ross Hutto and I would like to run for an at-large seat on the GLOA Board. I played MCLA ball for the University of South Carolina and have officiated games at the high school level for 5 years. This upcoming season will be my 6th year, and 3rd year with the GLOA. We talk about the Association not getting any younger. My top priority will be to build a campaign to find and develop young officiating talent within the State of Georgia. As any Association grows and ages, we must realize a new influx of young talent will ultimately carry the baton forward. It is our responsibility to proactively pass countless years of knowledge and experience to future leaders. I am grateful for the knowledge many of you have passed to me in this short time with the GLOA. One of my first coaches was Jim Head (Johns Hopkins All-American '72). He instilled in me the scrappy, hardworking, defensive mentality that I will carry with me to the GLOA Board. I'm a self-starter and look forward to working with all of you. Let's continue to make the GLOA a representation of the best lacrosse officials in America.
Thanks,
Ross Hutto
Topher Lawson
Greetings fellow referees.
My name is Christopher Lawson, better known to players, coaches and friends as "Topher". If I were elected to the GLOA board, my primary focus would be devoted to improved transparency, overall referee equality and continued education. Therefore, I am asking for your vote to serve on the GLOA Board in the upcoming elections.
A little background: I have been involved with the sport of lacrosse for 33 years. In that time, I played at DeMatha H.S. (D.C.), University of Hartford, and Post Collegiate Clubs. I have coached college, high school, and youth lacrosse. I have
refereed lacrosse as a member of GLOA for 13 years and have refereed football for seven years.
Being a member of multiple associations allows me to evaluate and consider alternative methods between the associations in order to improve the efficiency of GLOA.
I Got Your Back
Topher Lawson
Jeremy Redmon
Gents,
I am honored to have had the opportunity to represent you as a GLOA board member and trainer and as Georgia's rules interpreter for the past few years. Now I am asking for your support so that I may continue this important work.
For those of you who do not know me, I have played, officiated and coached lacrosse for many years. Since 2008, I have been a GLOA member and have officiated every level of the sport, including youth, high school, MCLA, NCAA and post-collegiate. In 2017, I was thrilled to receive the annual Ron Mallonee Award for dedication and service to GLOA and for helping grow the sport of lacrosse. I am a US Lacrosse Certified Trainer and have completed US Lacrosse's LAREDO 2 and 3 training programs. Before wearing the stripes, I competed at the junior varsity and varsity levels as a midfielder for Oakton High School in Northern Virginia and played on postcollegiate men's lacrosse teams in Fairfax, Richmond, Charlottesville and Atlanta. In Atlanta, I organized men's post-collegiate lacrosse tournaments that benefited the Wounded Warrior Project and the Georgia Firefighters Burn Foundation. Additionally, I have served as a volunteer assistant coach with Atlanta Youth Lacrosse and the River Ridge Jr. Knights youth programs. In 2019, I completed the US Lacrosse Level 1 Coach Development Certification.
This year, I created the GLOA Helpline for members seeking guidance about a broad variety of issues, everything from mechanics to communicating with coaches to improving officiating. If re-elected, I would continue supporting our members in these ways, remaining responsive to those with officiating and mechanics questions and providing training that can help take us to the next level. I enjoy officiating alongside all of you and am grateful for your support.
I would greatly appreciate your support as I seek reelection to the GLOA Board.
Thank you,
Jeremy