Nineteen rules changes for the 2014 Boys Lacrosse season were approved by the National Federation of State High School Associations (NFHS) Boys Lacrosse Rules Committee. These include major changes to substitutions, faceoffs, penalty enforcement, body checks, as well as a recommendation that three officials be used on all games. The changes are summarized below.
All questions regarding the new rules and rule interpretations for contests in Georgia should be addressed to Ryan Rowe, Rules Interpreter at  [email protected].
No Horns
4-22
All substitutions during play will be "on the fly." Coaches will no longer be able to request a horn for a ball out of bounds on the sideline.  Teams may substitute freely when play is suspended for end of a period, goal, time-out and after a time-serving penalty.
Expanded Special Substitution Area
1-2-7/8/9 
The Substitution/Table area  has been expanded to 20 yards and allows more space for players to get on and off the field as well as better sight-lines for table personnel.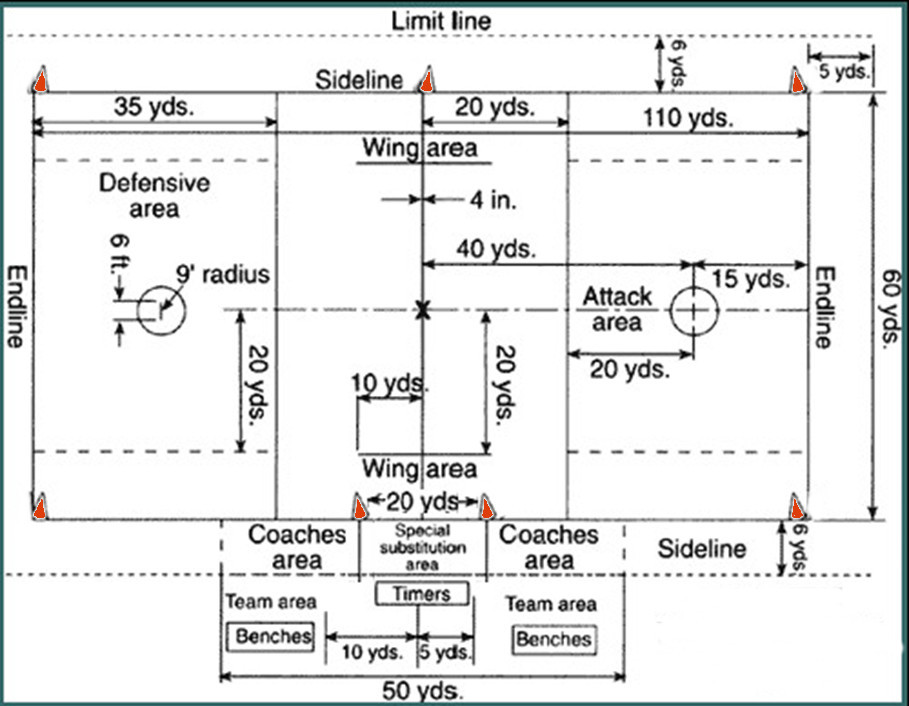 Balls on Endlines and Sidelines
2-10-1
In order to speed up restarts and shorten overall game times, the home team must now also four balls on the endlines and four balls on each sideline.  On the bench side, balls should be placed at the scorer's table.
Checks Involving the Head/Neck and Targeting a Defenseless Player
5-3-5, 5-4
A new rule was added to address a check "that targets a player in a defenseless position" This includes but is not limited to:
body-checking a player from his "blind side";
body-checking a player who has his head down in an attempt to play a loose ball; and
body-checking a player whose head is turned away to receive a pass, even if that player turns toward the contact immediately before the body-check.
This is a mandatory two- or three-minute non releasable penalty. Similarly the penalty for Checks Involving the Head/Neck was made a mandatory two- or three-minute non releasable penalty.
Stacking Penalties
 7-2
This rule has been used in NCAA rules for a number of years and is referred to as "stacking" the box. A maximum of three players from the same team can serve penalties at the same time. A fourth or subsequent player must wait in the bench area for a spot in the box to open up.  The penalty time of any additional players(s) shall not start until the penalty time of one of the three players in the penalty area expires. These players waiting to serve their time cannot be released by a goal until they are in the penalty area serving their time.
Offsides: Count Forwards, No Longer a Free Clear
4-10  
A team is considered not offside when it has too few players on a side, but when it has too many! This revises the requirements to more accurately reflect the unfair advantage created by an offside situation and allows the official to "count forward," keeping their attention focused on the active side of the field.
Offsides is no longer an automatic free clear.  The ball will be put in play where it was when the whistle was blown or if in the attack box, it will be moved laterally to the alley.
FDSW Enforcement in Last 2 Minutes
7-8-2k
During a Flag Down situation, the officials will stop play to enforce penalties should a subsequent second defensive foul occur "during the final two minutes of regulation play with the team that is ahead possessing the ball in the goal/attack area, unless a scoring play is imminent." This aim of this rule change is to discourage the defensive team from fouling to gain possessions.
Faceoffs
1-7-5, 4-4-3
No player taking a faceoff may have tape on the throat of their crosse. The aim is to make it easier for officials to see if a player has his hands on the plastic head during a faceoff.
During a man-down faceoff, teams serving a penalty will no longer be allowed to move a player up from either the defensive or offensive area to the wing.  The only exception is if that team has three players in the penalty box, a player may move up from the defensive area to take the faceoff, but he must remain onside.
Use of Electronic Equipment
1-10-1c, 1-10-2 & 6-6-3a
Coaches, non-playing team members, athletic and trainers, and/or others officially connected with a team may use electronic equipment to communicate but they may not use equipment to communicate with players on the field.
Player Uniforms
1-9-1g6 , 1-10-1h 
Legal player numbers are 0-99 and that a team may not have both 1 and 01, 2 and 02, etc. as they are considered the same number. Beginning in the 2017-18 school year, double-zero, 01, 02, 03, etc. are not legal numbers.
Eye shade that is not a solid stroke or includes words, numbers, logos, or other symbols is not allowed.
Officials: Crew Size, Uniform and Authority
2-5, 2-5-2e, 2-6-1, 2-6-1 Note, 2-6-7
A minimum of three officials were recommended for all games.
Short black socks that cover the ankle were officially allowed as part of the uniform.
Officials' authority now ends when they leave the immediate playing facility, not when they step off of the field of play following a game. If something should occur prior to their leaving the immediate playing facility, they are still authorized to take appropriate action. In the event that a game is interrupted or suspended, officials maintain administrative responsibilities.
For a full listing of all changes, please read the NFHS memo Changes in Substitution Procedures Highlight High School Boys Lacrosse Rules Changes.