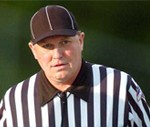 I hope everyone has had a positive season.  We are quickly approaching the end of season play-off run and the beginning of tournament season. There are still plenty of games to do and we need everyone to stay sharp and keep a level head. Let's keep our focus and stick to our routine.  Please be sure that you review your calendar and make sure that your Arbiter blocks are set through the end of June.  You can reference the
GLOA calendar
 for information on upcoming tournaments and events.
The summer is a great time to do games and tournaments outside of the area. In addition, US Lacrosse has a slate of Laredo trainings planned throughout the country, including one right here in Kennesaw, June 10-12.  These are a great way to get the feedback you need to raise your game.  We encourage everyone to consider these events. The Kevin Moore fund has been established to help defray the costs to attend these events. Any request should be sent to [email protected].
As you work through the final part of the season, I ask that you consider supporting the funds that GLOA has been a part of over the last several years.  These two funds support deserving players in the community and our own officials in the association.  1-2 game fees at the end the season is an outstanding contribution.  However, please donate whatever you are willing and able. Please send Message to [email protected] if you want your contribution taken from you end of season check.
And of course, we hope that you will join us on Friday May 13 at the Taco mac at the Prado for our end of season banquet where we recognize the hard work that you all have put into to making our 15th season as an association a great one! Invitations have already gone out. Please RSVP as soon as you can.
Landon
Hunsucker
GLOA President