The GLOA has partnered with Logosoft.com and opened an online gear store. Members may purchase green summer shirts, white summer hats, polos, pullovers, vests, jackets and t-shirts.
If you don't see what you want, let us know.
GLOA receives no compensation for orders made on the site. instead a 15% across the board savings to our members.
GLOA Gear Bags
GLOA continues to work with Florida official Bob Pradella at Mercury Luggage/Seward Trunk Company to make available a high quality gear bag with the GLOA shield and officials' names embroidered on it.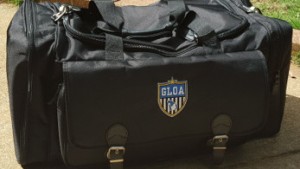 Mercury is a major provider of luggage to major league sports teams and officials (e.g. NFL and MLB) as well as the US Military. GLOA Officials may order on their own by downloading this catalog and order form, then contacting Joy Fraser to place and pay for the order. In addition to the gear bag, Mercury offers a wide variety of products including show bags and backpacks.
More information can be found on the GLOA Gear page.
If you have questions about any GLOA gear,  please contact Greg Hite at [email protected].