The Georgia Lacrosse Officials Association Board has made the decision to adopt 2-inch striped shirts, starting in February 2020. The change will bring us in line with other GHSA sports, most notably, football, and with collegiate lacrosse officials who recently made the decision to adopt the wider stripe. The Board did not come to this decision lightly — we realize there will be expenses associated with this move.
Deadline for ordering from Stripes extended to December 6!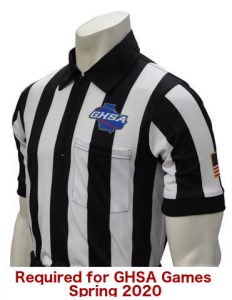 The shirts you need to purchase are 2′ stripe, sublimated shirts with pocket, collar, GHSA logo above pocket, US Flag on left shoulder. If you officiate GHSA football, you already have the correct shirts. Basketball shirts are NOT acceptable. For more information on the appropriate uniform, visit our required equipment and uniform page.
For many of our members this is expensive proposition as you will need to purchase a short sleeve and a long sleeve to work GHSA contests. An ad hoc committee was formed to investigate and negotiate with suppliers who can provide these 2-inch striped shirts at the lowest possible cost to our members and make the transition as seamless as possible.
Vendors
Here are the vendors selling these shirts along with any relevant promo codes or links. They are listed by price from low to high. Click the blue link to take you to the state association or ordering page.
Be sure to purchase SUBLIMATED SHIRTS (i.e. with logos, flags etc printed on shirt) as we are no longer providing GSHA patches. 
$27.00 short sleeve
$30.00 long sleeve
Orders will be taken and 2 batches; turn around time is 4.5 weeks.
Batch 2: Nov. 1- December 15 for delivery by January DEADLINE EXTENDED
$32.39 short sleeve
$36.89 long sleeve
Promo Code: DDR2019
Cliff Keen
$36.60 short sleeve
$42.00 long sleeve
Promo Code: GAHSAS177
One Stop
$36.00 short sleeve
$42.00 long sleeve
Promo Code: GLOA
$44.95 short sleeve
$47.95 long sleeve
No code
As other vendors become available we will update. 
Jackets and Pants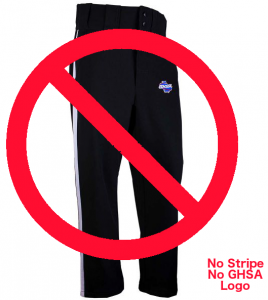 Please note that long pants with the white strip and GHSA logo are NOT part of the lacrosse uniform.  Long pants MUST be ALL black.
With this change, we will no longer be wearing the 1′ stripped jackets.  Jackets must now be ALL black.
If you have any questions please email [email protected].