Youth Recertification Conference Call Sunday February 23, 2020 at 6:30 pm
The online conference call that youth officials need to attend  will be on Sunday February 23, 2020 at 6:30 pm and will last about 45 minutes.
If you are an adult (over 18 and out of high school) and attended the GLOA training at Pope High School you are all set.
Meeting: go to

https://join.freeconferencecall.com/gregoryhite

, and click the "Join" button under the online meetings tab.
Meeting ID: 216592 (use this code to join the meeting)
Phone:( 515) 604-9930 (if you do not plan to use your laptop for audio)
Taking the 2020 Tests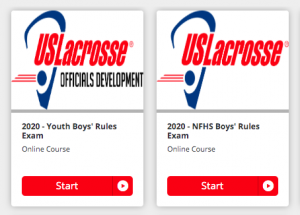 As we need to do every season, you need to take BOTH the NFHS and Youth tests. You should have received an email from USL reminding you of this.
It is the same process as last year, just new rule book. Go to Learning.USLacrosse.org
You should also have received your NFHS rulebook from US Lacrosse by now.
NOTE: Adult USL officials need to take the GHSA Clinic
and Test in addition to the US Lacrosse tests!
US Lacrosse Membership
If you did not receive an email or your rulebook or have double accessing the two tests please call the US Lacrosse Member Services line to make sure that your membership is up-to-date, you are listed in the system as a boy's official, and have selected to receive the NFHS rule book each year.
Places to Get Information
If you have not maintained your certification or do not plan to officiate, please let me know at ATL.LacrosseRef@gmail.com
If you do plan on officiating this Spring, please let me know if you have any other questions and look for an email soon.
Your best bet to check on what you need to do will always be galaxref.com.
Information specific to youth officials can be found at USL Youth Certification Information page.
Becoming a Certified Youth Official for the First Time
Unfortunately we do not have any training classes scheduled for Youth officials this season in Atlanta. To date, none of the youth leagues have contacted me to schedule field training games despite repeated requests.
With the NCAA and GHSA season schedules coming out and the various adult training events we need to attend, scheduling in the Spring is a very big challenge.
We will have multiple classes for both youth and adult next Fall, usually around Labor Day Weekend.
If you know of anyone who is interested, please send an email to me and I will mark them as interested and w contact them with more details as soon as they are confirmed.
Information specific to becoming a youth official can be found on our USL Youth Certification Information page.