The online webinar that youth officials need attend in order to recertify for the coming spring season will be on Tuesday January 26, 2021 at 7:30 pm and will last about an hour.
If you are an adult (over 18 and out of high school) and attended the adult GLOA training you are all set.
Register for the call here and you will be sent a zoom link in the confirmation email.
2021 Tests are Available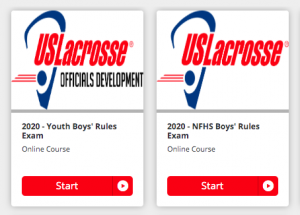 All officials are required to pass BOTH the NFHS and Youth tests. It is the same process as last year but the test are new.
Go to learning.uslacrosse.org go to dashboard: 
Catalog: Men's Game Officials: Annual Rules Exams: 2021 NFHS Boys Rules Exam and 2021 Youth Boys Rules Exam
NOTE: there is no new 2021 NFHS rulebook, continue to use your 2020 book.
US Lacrosse Membership
If you have double accessing the two tests please call the US Lacrosse Member Services line to make sure that your membership is up-to-date, you are listed in the system as a boy's official, and have selected to receive the NFHS rule book each year.
Becoming a 1st Time Youth Official
Unfortunately we do not have any training classes scheduled for Youth officials this spring. With the NCAA and GHSA season schedules coming out and the various adult training events we need to attend, scheduling is a very big challenge.
We will have multiple classes for both youth and adult next Fall, usually around Labor Day Weekend.
If you know of anyone who is interested, please send an email to me and I will mark them as interested and w contact them with more details as soon as they are confirmed.
Information specific to becoming a youth official can be found on our USL Youth Certification Information page.