For the past few years, game film has become a larger part of the game in lacrosse in Georgia. Most of the early focus was on addressing concerns raised by coaches.  All trainers, Assignors, and Observers have access to and are responsible for reviewing game film sent to us. As part of the GLOA's on-going training and observation program, GLOA has shared games films with crews in an effort to help them improve their performances.
Hudl limits the amount of video hours GLOA can store in its profile library to 500 hours worth of raw game film. This coming Friday, February 17, 2023. will delete all 2022 games.  You have the option to download a copy of your game film.
Let Greg Hite or Clyde Allen know if you have any questions.
New Members Added to Hudl Account
New GLOA members will be added to the Hudl account today! All adult officials should receive an email from Hudl ([email protected]) from asking them to log in using the email address in Arbiter and set up a password.  Please check your spam folder for this email and join the account.
Features:
access to almost all GHSA programs' game film
GLOA library up to
Create clips from any raw game film
Make comments and add telestrations
Share raw film and clips with members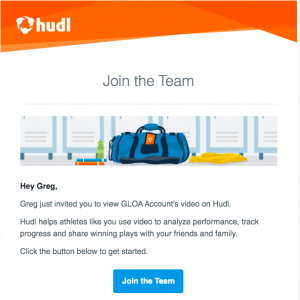 For best results, use Google Chrome as your web browser. You may also download the free Athlete iOS or Android app, if you haven't already.
If you have questions with your account, contact Greg Hite at [email protected] or check out the Hudl Support page.
Requesting Video
Feel free to contact any of these members of the Video Committee to ask for your game's film. Check out this post on how to watch video.
Video Committee
Greg Hite
Bill Powell
Clyde Allen
Hebert Phillips
Jeremy Redmon
Pat Joyce
Stuart Smith
Tony Rouse